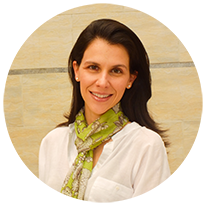 Ana Federica Convit
Founder & President
Completed her undergraduate studies in International Studies at Dickinson College, Pennsylvania, where she excelled as a member and President of the Women's Honor Society and Model United Nations. For the following eight years, she worked in finance at the Hong Kong Shanghai Banking Corporation (HSBC) in New York, in the areas of Private Banking and Foreign Exchange. As Vice President for Institutional Sales, she covered clients such as the central banks of Latin American countries, pension funds, hedge funds and commercial banks. Her commitment to Venezuela and her great desire to support the work of her grandfather brought her back to her home country to engage in public service and work with Dr. Convit's pioneer project in cancer immunotherapy.
In 2010, she founded a small non-profit organization for the Development of Cancer Immunotherapy (Asoinmunocáncer) to continue Dr. Convit's research on a vaccine against this disease. At the same time, she obtained her Master's degree in Public Management at Instituto de Estudios Superiores y Administración (IESA). In 2012, she founded Fundación Jacinto Convit, responsible for preserving and continuing Dr. Convit's legacy, in addition to promoting and expanding his scientific research, educational and social projects. In 2014, she incorporated the Jacinto Convit World Organization, Inc. in the United States, to project the work of the local foundation at an international level. In 2015, she received the distinction as one of IESA's 50 most influential alumni.
In 2016, she inaugurated Fundación Jacinto Convit's headquarters in Venezuela, the first independent, non-profit, scientific research center in the region dedicated to public health. This center was completed 100% on donations raised from local companies, multinational institutions, foundations, and the public sector. To date, Ana Federica is author of two publications in peer reviewed journals in the area of cancer immunotherapy. Through the organization, she leads pioneer programs with high social impact in the areas of molecular diagnostics, development of new immunotherapy treatments, educational programs, and a training program for students and professionals from all regions of her native country. Through her work, she aims to impact the most vulnerable populations in Venezuela and around the world.
Contact: ana.f.convit@jacintoconvit.org